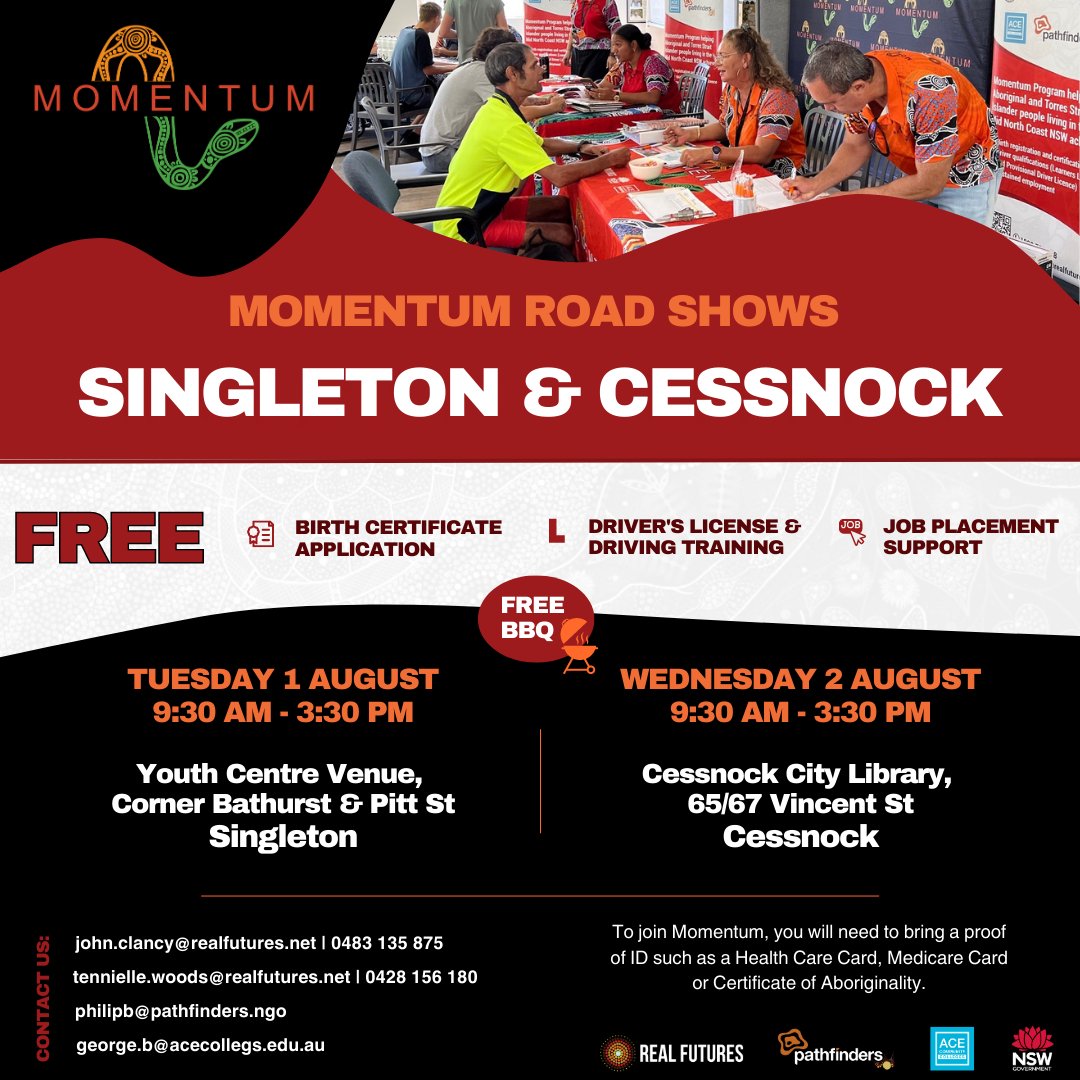 Momentum – Free Sign-Up Event
MOMENTUM: Transforming Lives of Aboriginal People through Employment Opportunities
Singleton and Cessnock, NSW – July 21, 2023 – The highly acclaimed Momentum Program, an initiative funded by the NSW Government, is making its way to Singleton and Cessnock. Collaboratively developed by Real Futures, Pathfinders, and ACE Community Colleges, this groundbreaking program aims to empower Aboriginal and Torres Strait Islander individuals by helping them overcome common barriers to long-term employment.
The next Momentum Program sign-up events will take place on August 1, at the Singleton Youth Centre Venue, Corner Bathurst and Pitt Street, Singleton, and on August 2, 2023, at the Cessnock City Library located at 65-67 Vincent Street, Cessnock.
With a vision to make a lasting impact, Momentum offers free support to successful applicants, including assistance with obtaining birth certificates, driver's license acquisition, and finding sustainable employment opportunities. To be eligible for the program, applicants must identify as Aboriginal or Torres Strait Islander, be aged between 16-55 years, not possess a Birth Certificate or Driver's License, and currently be unemployed.
During the Momentum Program, approved participants will receive guidance in applying for their birth certificate on the same day of enrollment. To facilitate the process, individuals are advised to bring any available identification documents, such as Medicare Card, Health Care Card, Certificate of Aboriginality, Student ID card, Health Care Card, or Pension Card.
Momentum represents a groundbreaking collaboration among three local organisations. Pathfinders plays a crucial role in assisting individuals with obtaining their birth certificates, while Ace Community Colleges provides guidance and support in obtaining driver's licenses. Real Futures specialises in employment readiness, training services, and job placements, empowering Aboriginal and Torres Strait Islander individuals in their journey towards sustainable employment.
"Momentum is a program that brings together essential services to help Aboriginal and Torres Strait Islander people obtain their birth certificates, driver's licenses, and secure meaningful employment opportunities," highlighted John Clancy, Momentum Program Manager.
"The significance of possessing a birth certificate cannot be understated, as it unlocks essential rights, such as a tax file number, opening a bank account, or obtaining a driver's license. Without this vital document, individuals face numerous challenges, including difficulties in finding employment," stated Pathfinders Momentum Coordinator, Phillip Bird.
Natalie Hannah of ACE Community Colleges expressed her enthusiasm for the Momentum Program, stating, "Momentum is a wonderful program that has the potential to positively change the lives of many people across NSW. The impact we have witnessed through our driving license program alone is remarkable, and the collaboration of these three services holds immense promise."
Real Futures, a majority Aboriginal-owned and staffed company, plays a pivotal role in preparing program participants for employment. Through personalised support, job readiness training, and connections with local job opportunities, Real Futures empowers individuals with the skills and confidence necessary for long-term success in the workforce. Steven Clarke of Real Futures emphasised their commitment to supporting individuals throughout their employment journey, facilitating a smooth transition into new roles.