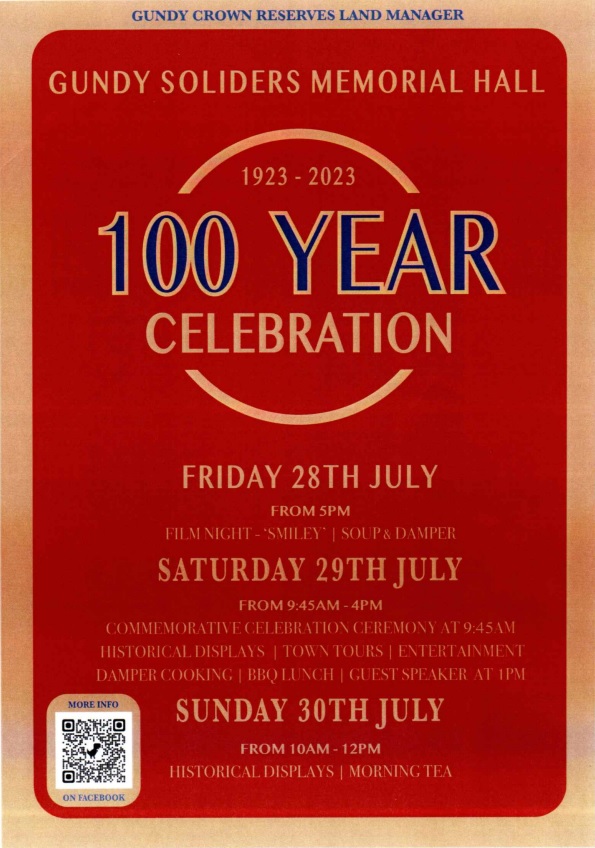 FILM NIGHT – GUNDY SOLDIER'S MEMORIAL HALL CENTENARY
1923-2023
The community of Gundy, NSW will be celebrating the 100th anniversary of Gundy Soldier's Memorial Hall on the week-end of the 28th, 29th and 30th July, 2023.
The hall was opened on the 23rd July, 1923.
A committee has been established to organize a meaningful celebration which will include, on the Friday night, the 28th July, soup and freshly made damper at a reasonable price, the showing of the film 'Smiley' filmed almost entirely in Gundy in the 1950s. Some locals will be having a trip down memory lane watching this film as they, as children had minor parts in the film. The local landscape, as it was then has been immortalized for young and old to see whether from Gundy or a visitor. Bring your winter woollies and experience a 1920s experience. Natural heating!!!!
Saturday, the day will commence with a Commemoration Ceremony, beginning with a short march to the hall being made up with representatives from local RSL Clubs, official guests, military presence, light horse, vintage WW2 vehicles, burglar etc. There will be an address, outlining the history of the building of the hall and the uses of the hall over the years. A plaque will be unveiled in memory Ada Joyce Bridge, a local woman who grew up in the Gundy area and served in the Australian Army Nursing Service. Joyce was the only woman to lose her life during WW2 and another plaque will be unveiled to mark the 100th birthday of the hall.
There will be lots of activities in and around the hall on Saturday 29th July including a hall full of memorabilia set up on boards around the hall. Many locals have been raiding their family albums to share memories from the past 100 years. Lunch will be available in the hall for a very reasonable price and will consist of a choice of bbq meats and salads, both sit down and takeaway.
During the lunch time from 12pm to 2pm we will have the pleasure of a guest speaker at 1pm for visitors to listen to while they have lunch. The subject will be early history of Gundy.
Entertainment will include random singers/musicians, skits from the era, performance of 'The Gundy Song'. Damper making demonstration, history stalls.
Bus tours will be running throughout the day with commentary pointing out the historic sites with some stories.
The old Gundy School, now a residence, will be opened for tours. Maps available to do a self walking tour.
Morning tea will be available in the hall on both Saturday and Sunday.
Sunday 30th July, the hall will be opened for viewing of the memorabilia with morning tea available from 10am to 12pm.