The ASUS ROG Zephyrus GX502G is a powerful gaming laptop with enough subtle style and to pull off being a machine for both work and play.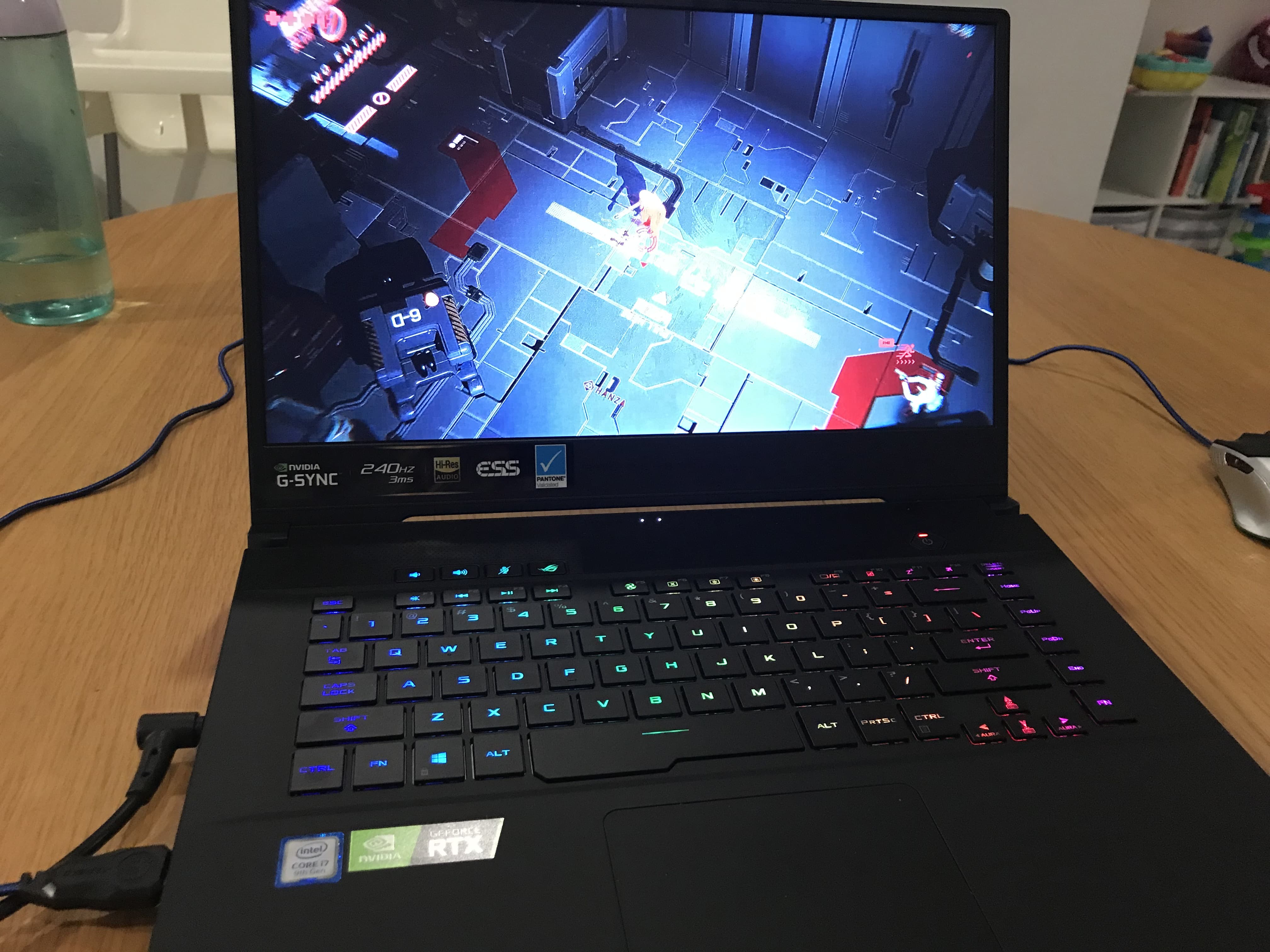 The super thin lightweight and compact design is another improvement in the model even if the lack of an on board webcam seems to be an unusual sacrifice for the smaller bezel. There is an option for the machine to come with an external cam but for me it was just a really odd thing to leave off in the first place and an external will just add another thing to pack in your bag or lose along the way.
The machine is offered in a couple of colour choices, I'm a fan of the one I had for review purposes which is the standard black, but with further research the silvery blue case (known as Glacier Blue) which has a more business feel about it would certainly be my option for purchase as its a bit more of a disguise for the hidden purposes of gaming on my lunch break.
There are so many ports on the Zephyrus GX502G with the RJ45, HDMI 2.0b, a couple of USB 3.0 GEN 1s and a couple more Gen 2s. Add to that the 3.5mm Audio Jack and Mic in and you'll see a couple of very full side panels with the ability to run all of your accessories.
The display is as vibrant as ever, with a 15.6 inch panel that runs super smooth on all the modern gaming titles. It boasts a 240Hz refresh rate with a quick 3ms response time. The super thin 6.2mm bezel achieves its purpose of a fully immersive screen. Paired with the Nvidia Geforce RTX™ 2070 it's bright/vibrant colours are a joy to game with.
Running powerful work tools on a laptop can be troublesome for some brands and builds. The Zephyrus managed to really blow my MAC out of the water when it came to photoshop and Adobe Premiere & After Effects. A file that took 1 hour to render on my current work machine, took 15 minutes on the powerful GX502G, cutting out the downtime between jobs.
Battery life comes in at around 8 hours, if you are surfing the web and playing solitaire but will be cut down considerably if you are playing Ghost Recon or creating some video content. In these cases it's always best to have the machine plugged into power for maximum benefits.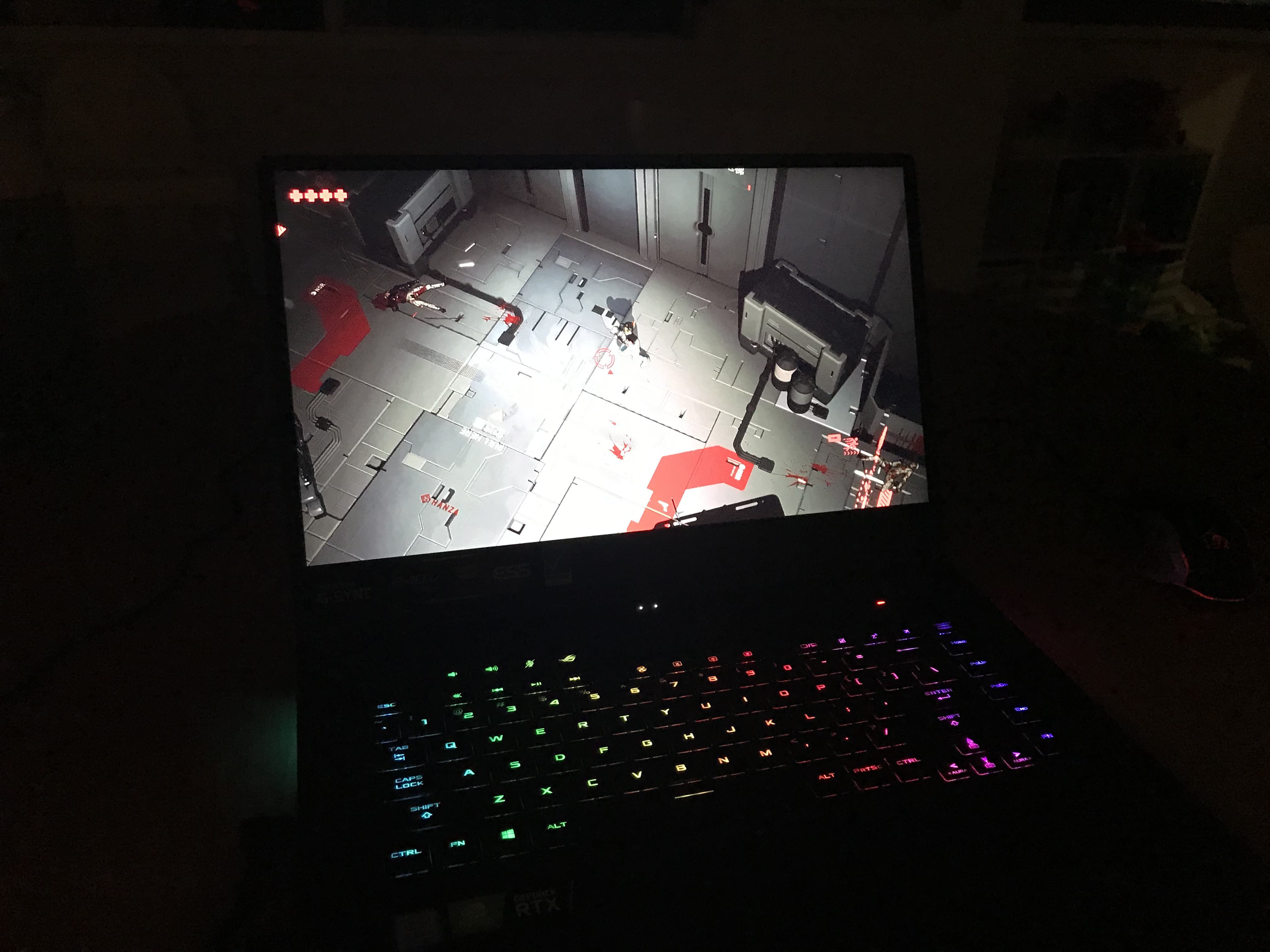 Once again this machine has the innovative "Active Aerodynamic System" that opens additional vents as you open the case of the laptop. You'll see the back of the machine rise which increases the airflow helping to keep it cool.
Using the Zephyrus has been a mostly positive experience, the powerful i7 processor and 16 gb of ram allow it to seamlessly transform from a work horse to a gaming machine and the extra HD space means you have plenty of storage as well. The super slim design is great for the portability of the machine but the lack of a webcam seems really perplexing in a day and age where that function is almost a given.
The ASUS ROG Zephryus GX502G was provided on a short term loan for review purposes.