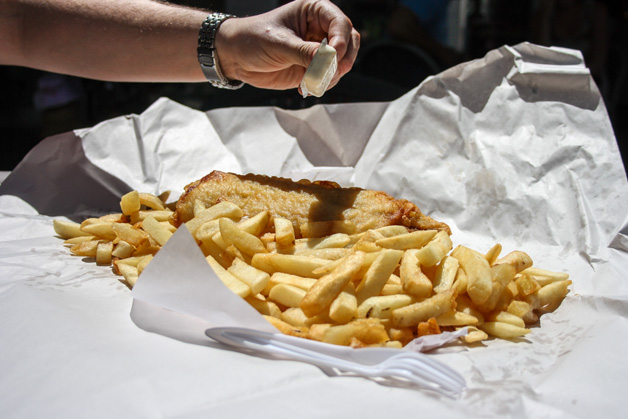 The country's best fish & chip shops have been announced with the Great Australian Fish & Chips Award winners revealed for 2021. Each state and territory has a winner with almost 300,000 votes from the public.
Organised by Seafood Industry Australia (SIA), CEO Veronica Papacosta said in a media release, "In every town, across every state and territory, people spruik their fish & chips as number one. So, we've listened to the people, and crowned the best fish & chip shops around the country."
Here are the winners of the Great Australian Fish & Chip Awards 2021 MasterFoods™ People's Choice Awards:
---
Queensland
Costa's Seafood Cafe, Capalaba
According to the SIA, Queensland had the most votes cast which meant Costa's received the most votes in the entire competition.
---
New South Wales
Something Seafood, Callala Bay
---
Victoria
Trident Fish Bar, Queenscliff
---
Tasmania
Fraggles, Invermay
---
South Australia
Fish Out of Water, Hyde Park
---
Western Australia
Pinjarra Fish & Chips, Pinjarra
---
Northern Territory
Frying Nemo Fish and Chippery, Stuart Park
---
Australian Capital Territory
The Fish Shack, Civic
---
The awards are a celebration of the amazing fishers and food service teams who catch and cook the seafood. This year with almost 300,000 votes was the most that has ever been counted.
"After a hard 18 months for Australia's foodservice industry and our commercial fishers, we encourage everyone to take a night or two off from the kitchen, get together with your friends and family, and support your local takeaway store and your fishers, while you enjoy some Great Australian Fish & Chips," says the SIA.
"The awards also highlight the importance of buying fresh, local, Australian seafood. It's important to always ask for Aussie seafood; even why you're buying fish & chips. Australian seafood is one of the most sustainable protein sources in the world and our fisheries management is world-class. However, close to 70 per cent of seafood eaten in Australia is imported so it's important you chat to your server about where your seafood is from."
Image Credit: (Rutkowskii / Shutterstock.com)