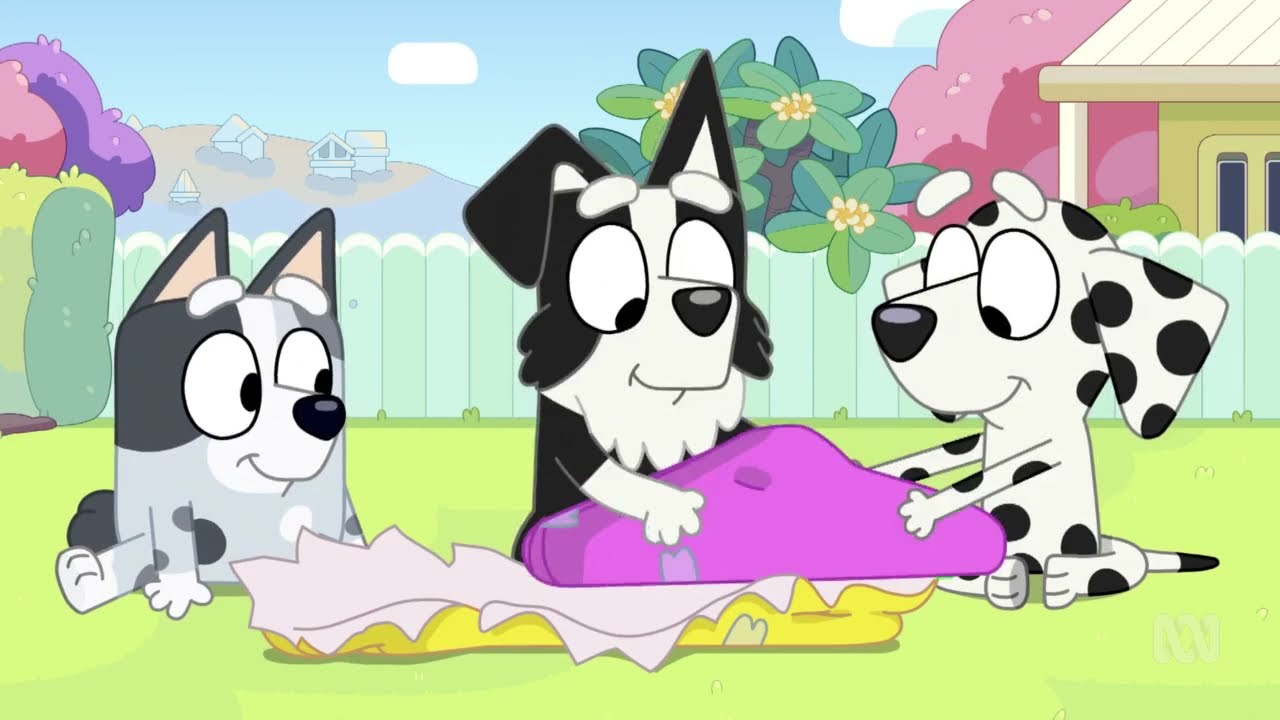 The latest episode of Australia's beloved Bluey is causing quite a stir amongst parents, with many taking issue with a kid's party scene.
The episode - aptly titled Pass The Parcel - sees Bluey's neighbour (aka Lucky's dad) frustrated with the modern-day rules of pass-the-parcel whereby every single layer contains a prize.
"We're raising a nation of squibs," he says after learning that "everyone gets a prize".
Lucky's dad then continues to reminisce about his own childhood, where the game was played with only one final prize and only one winner.
He begins to enforce these old-school pass-the-parcel rules at his own son's party saying the new generation need to just "suck it up".
While the children are visibly upset to begin with, they slowly learn over a series of birthday parties to enjoy the new rules and accept the fact that not everyone will win all of the time.
The episode has sparked a parenting debate online, with some marking it as the "greatest Bluey episode of all time," while others viewed the parenting approach as very 80s.
What do you think?
The new 'pass the parcel' episode of #Bluey is possibly the most complex observation of socio-cultural influences on parenting and growth mindset I have seen squished into 7 minutes.

— Jocelyn Brewer (@JocelynBrewer) December 4, 2021
OMG Bluey making the case for a return to 80s pass the parcel, I love it.

— Juliette McIntyre (@juliettemm) December 5, 2021
Pass the parcel should always be played with Lucky's dads rules #Bluey

— David Hards (@hardsy05) December 5, 2021
It's an extremely weird swerve that the latest three Bluey episodes have been about how kids today are too spoiled by playing Pass The Parcel wrong and about how everything being on phone apps is ruining society not like back in my day, etc.

— Adrian Forest (@adrian_a_forest) December 7, 2021
the pass the parcel ep of bluey contains a message that those who benefit from unfair systems (often perpetrated by nostalgia of how things used to be) are the least likely to challenge them, often choosing to carry them on despite them being less good to all, in this paper I wil

— Lucas (@lokified) December 5, 2021
"They have to suck it up!"

Is Pass the Parcel the greatest #Bluey episode of all time? And the longest?

— Grant Vandenberg (@Grant_Vando) December 4, 2021
At a children's party today a child came up to me and asked if the pass-the-parcel was lucky's-dad's-rules. #win @OfficialBlueyTV #bluey #finally

— Jack Clegg (@JackKClegg) December 5, 2021
This isn't the first time this family of Blue Heelers have sparked controversy online.
You might remember earlier in the year when US viewers realised some scenes had been cut from Disney's version of Bluey.
A father from North Carolina and self-confessed 'Bluey stan' took to his TikTok to point out the censored scenes.
Scenes were cut from the 'Teasing' and 'Markets' episodes.
This one was cut too, unfortunately. They edited it to make it look like the pony's tail is wagging, then cuts to the next scene. https://t.co/Wg99goYdoU

— Bluey Moments (@blueymoments) May 17, 2020
Image (FinnlyYTFun / Youtube)