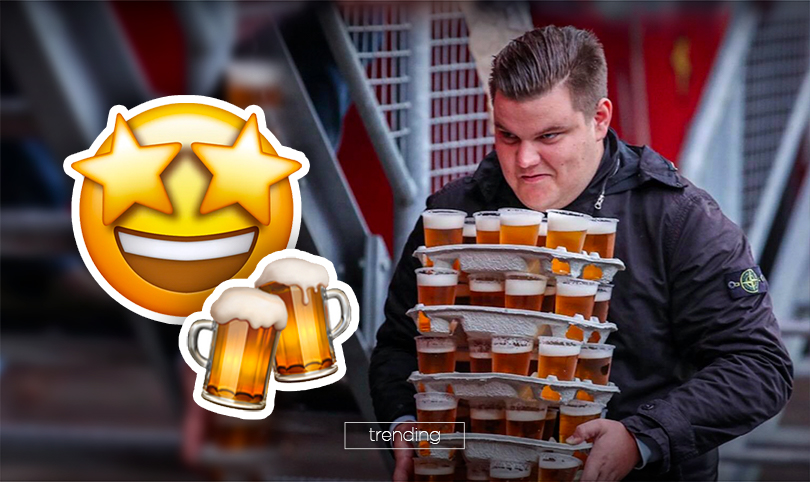 Watch the moment a football fan stole the spotlight at a game after carrying a whopping 48 beers in one go!
There's no doubt about it, it sucks when its your turn to grab the next round of drinks at a concert or sporting match. It's a battle of clambering through crowds and stadium seats, while trying not to spill a drop!
No one knows the feeling quite like Christiaan Roetgering who, when it came time for his shout at a Dutch football game, decided to save making multiple trips by just carrying all the drinks at once. ALL 48 BEERS!
The 23-year-old can be seen honing a look of utter concentration while balancing five trays of beer in plastic cups.
Hold my beer 🍻
FC Twente 🇳🇱 pic.twitter.com/Q9nUycLxtZ

— STAND YOUR GROUND 👊 (@Ultramaniatics_) October 19, 2021
With the drinks clutched tightly to his chest, Christiaan marches through the stadium to an audience of cheering spectators in the grandstand.
"Come on, you've got them!" an onlooker is heard screaming with the enthusiasm usually reserved for the actual football game.
Another FC Twente fan 😊 pic.twitter.com/fPDitASk7i

— HooligansTV (@HooligansTV_eu) October 18, 2021
The now cult hero is being applauded by fellow beer-lovers across the globe.
ESPN UK tweeted, "Not all heroes wear capes" while Aussie user, @steve_sync commented, "Great work. This will be my round when Vic lockdown finally ends on Friday."
Not all heroes wear capes 🍺

(via @fctwente) pic.twitter.com/5Kil8k1N6y

— ESPN UK (@ESPNUK) October 18, 2021
Remarkably, the FC Twente fan told The Sun that 48 beers wasn't even the record amongst his group of friends, instead a "friend Jochen has managed in the past to carry 50 beers in one go."
#DrinkResponsibly
Image (ESPN UK / Twitter via FC Twente)