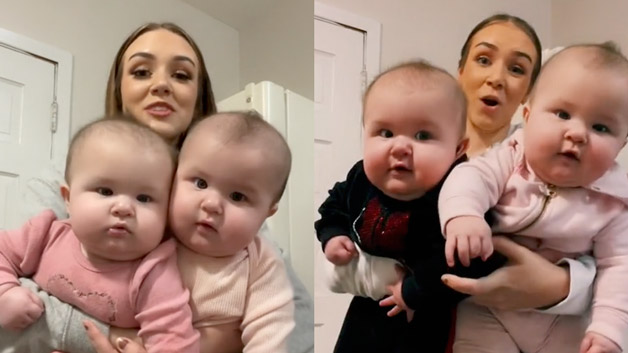 The Mejia family have quickly gone viral, after mum, Alexis LaRue shared a video of herself holding her two twin girls, Elena and Camila to TikTok. One video has caught the attention of viewers with their size comparison, gaining over 48 million views and 5 million likes at the time of writing.
Trying to hold the baby twins with one arm, LaRue posted the video captioned, "It's a no for me 🤣🤣" and says in the video:
"I tried to copy that girl, you know, everyone knows her, it is not for the weak. I don't know if I'm just weak or if my babies are just chunky but…"
Surprised at the size of the babies compared to their mum, viewers were curious and asked about their weights. When one user asked, "Super curious to know.. How old are they! And what were there (sic) birth/current weights?" LaRue revealed that the twins had tripled in weight since they were born. She explains:
"So, I had them when I was 38 weeks. Camila was 6 lbs 6 oz and Elena was 6 lbs 7 oz. Now they are 6 months old and I don't know their exact weight right now but I know that they're somewhere around 18 pounds, so, they're little chunkers but they're so cute."
In further updates, LaRue reveals she is 5 ft 3 in height and weighs 116 lbs herself. In a video measuring and weighing her daughters, we find out at roughly 6 months old, Elena now weighed 20.8 lbs and is 70cm tall and her sister Camila also weighs 20.8 lbs and is 69cm tall. Alexis' husband Leo, reportedly is 5 ft 11 and also appears in their family videos.
With their newfound fame, the family of four are continuing to share their story and lives with their 600K (and growing) followers, full of wholesome content.
Image Credit: (@themejiafamily_ / TikTok)