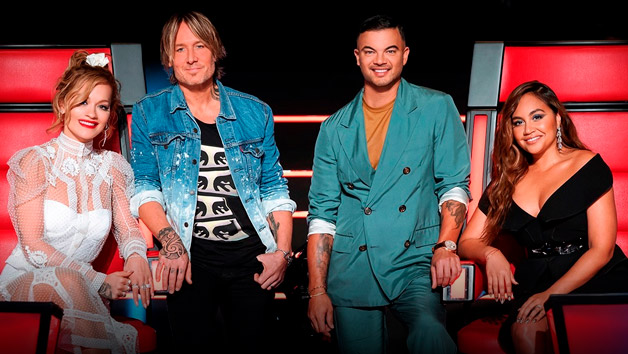 The Voice Australia will return to Channel 7 and 7plus in 2022 with Channel 7 now confirming the line-up of coaches for the newest season.
Current coaches Keith Urban, Jessica Mauboy, Guy Sebastian and Rita Ora are all confirmed to return after a highly successful season this year.
The revival on the new network has seen great success, up 45% audience views compared to 2020's season. Season 9's finale saw Chris Sebastian crowned the winner with winning coach Kelly Rowland. 2020's coach lineup included Kelly Rowland, Guy Sebastian, Delta Goodrem and Boy George.
2.02 million viewers watched the Grand Finale this year where Bella Taylor Smith was crowned the winner after beating out Arlo Sim, G-Nat!on and Mick Harrington.
Channel 7 announced on their social media:
Bring on 2022! ✌️ We're pumped that Rita Ora, Keith Urban, Guy Sebastian and Jessica Mauboy will be behind the Coaches chair for another season of #TheVoiceAU 😍
British pop superstar, Rita Ora told 7LIFE about her return, "I can't wait to return to The Voice. I absolutely love Australia, and it's a privilege to be part of such a life-changing show."
"The phenomenal artists this year blew my mind, especially Team Rita."
The 30-year-old 'Let You Love Me' singer, who was also a coach on The Voice UK's 2015 season said she looks forward to getting back together with her 'extended family' of coaches.
"The other coaches are like extended family and I'm really looking forward to getting back together to discover the next The Voice superstar," Ora explained.
Aussie country music legend Keith Urban said when he got the invite, he RSVP'd 'YES' and said he would be coming ready to play. He said, "The Voice just sent me a photo of an empty spinning red chair and said 'this has your name on it'…. and it literally did…. So, I RSVP'd 'YES!'…. and I'll be coming ready to play."
Jess Mauboy said she had a great time with her fellow coaches saying, "I am excited to be invited back to The Voice 2022 with this incredible team of coaches again. We had such a great time this year. The talent in this country is exceptional and to be able to continue to support and showcase upcoming musicians is always an honour."
Winning coach Guy Sebastian can't wait to return for another season of magic, writing, "I can't wait to be back again next season with Keith, Rita, Jess and the incredible team of producers and musicians to make some more magic happen! Oh ... and Team Guy won. Bella you really raised the standards for all of us."
Sonia Kruger will also be returning as host for another season of The Voice Australia.
The Voice returns to Channel 7 and 7plus in 2022 as well as 'The Voice Generations'.
Image credit: (@TheVoiceAU / Instagram)