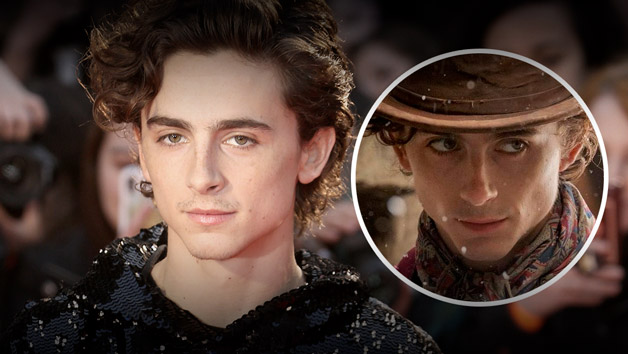 Timothée Chalamet has shared the first look at himself in character as Willy Wonka in the upcoming 'Wonka' film set to be released in 2023.
Taking to social media, Chalamet shared two photos, one of him on set in costume and another of a close up of his walking stick with the caption, "The suspense is terrible, I hope it will last … 🏭WONKA🍫."
Playing a younger version of Wonka, the photo shows his character in familiar clothing from his top hat and blazer. The second photo which appears to be a close up of his walking stick, shows his hands reaching for a small wrapped purple present with a red bow that sits on top of the staff.
The 25-year-old actor was announced to play the iconic character back in May 2021 for the 2023 adaptation by Warner Bros. Pictures which will be directed by Paul King (known for directing Paddington).
The 2023 adaptation will be a prequel to the original 1964 novel, 'Charlie and the Chocolate Factory' by Roald Dahl and will follow the story of a young Willy Wonka and apparently how he met the Oompa-Loompas. Full plot details are still under wraps, but it's said the film will contain musical numbers and Chalamet's reps have confirmed he will be singing and dancing in the movie.
Other stars announced to appear in the film include Olivia Colman, Rakhee Thakrar, Keegan-Michael Key, Sally Hawkins, Rowan Atkinson, and Jim Carter.
Gene Wilder originally portrayed the iconic chocolate maker in the 1971 film, "Willy Wonka and the Chocolate Factory," and in 2005, Johnny Depp took on the role in the 2005 reboot "Charlie and the Chocolate Factory," which was directed by Tim Burton. During the casting process in the latest adaptation, the title role of Wonka was reportedly between Chalamet and Tom Holland to play the eccentric confectioner.
Chalamet is known for his breakthrough role in the coming-of-age romantic drama 'Call Me by Your Name' (2017) with his role of Elio, and most recently in 2021's 'Dune', playing the lead role as Paul Atreides.
'Wonka' is scheduled for release theatrically on March 17, 2023.
Image credits: (Cubankite / Shutterstock.com) (@tchalamet / Instagram)