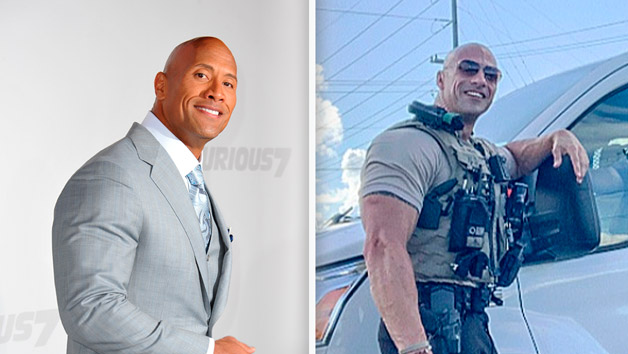 After his photo was posted online, Alabama cop Lieutenant Eric Fields has gone viral due to his uncanny resemblance to Dwayne 'The Rock' Johnson.
When Morgan County Sheriff's Office posted the photo of Lieutenant Fields to their Facebook, it gained a lot of attention with followers taking to the comments section to agree with the likeness.
According to the Sheriff's Office, Lieutenant Fields is known in the local area for looking like The Rock and a Walmart worker wanted to meet him. The caption reads:
"This gentlemen recently ran into our Sgt. Mason and informed him he wanted to meet our Deputy that people say looks like "The Rock".

Sgt. Mason passed that along and Lieutenant Fields was happy to swing by the Hartselle Wal-mart to see him. Tyler is one of their many hardworkers and it was great to meet him and some of his coworkers!"
Perplexed, the internet responded with comments like "I'm confused. That's NOT THE ROCK?." Another commented saying Fields should be The Rock's stunt double writing, "this guy needs to come to Los Angeles and be the rocks stunt double."
According to one person, they had to convince their son that it wasn't actually him and said, "I had to convince my 11 year old this wasn't the Rock."
Another said Fields actually looked like a mixture of The Rock and his fellow Fast & Furious co-star Vin Diese commenting, "It's more like..Dwayne Johnson and Vin Diesel combined or they done fusion technique."
TikTok user @chandlerelyse_ also pointed out the comparison trying to get The Rock to see his newly found twin.
In response to his newfound fame, Fields told al.com that it's been a running joke for years. He told them, "I've been called The Rock and Vin Diesel's love child." "I go along with it. It's humorous. It's flattering. It could be worse people, I guess."
The 37-year-old Patrol Lieutenant who has worked with the Morgan County Sheriff's Office for 17 years, says his family even sees the resemblance. He even posted on Twitter that his wife made him an action figure from The Rock's WWE figure.
"LT FIELDS" ACTION FIGURE 😎 My wife made me a action figure from The Rock's WWE figure 🤦🏽‍♂️ she is getting a kick out of this 🤣😂🤣 (Thought I would share incase Hasbro was looking 😆) pic.twitter.com/7lTRvYvA9w

— Eric Fields (@EricFieldsLEO) August 29, 2021
---
Image Credits: (Featureflash Photo Agency / Shutterstock.com) + (@MorganSheriffOffice / Facebook)