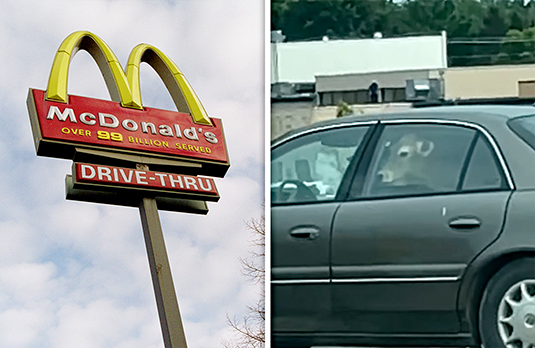 A cow has gone viral after being filmed chilling in the back seat of a sedan in a McDonald's Drive-Thru.
The steaks were high when a Wisconsin resident spotted a brown calf in the back of a car while waiting in a queue for Maccas Drive Thru.
Taking stock of the situation, Jessica Nelson posted the 19-second video to her Facebook page. In less than 24 hours it received 52,000 views and over 2,000 shares, with Nelson commenting it was "all because an old man drove thru McDonald's with a cutie cow. I wish I was able to give him all the credit-I just shot the video."
The original video was posted with the caption, "A WHOLE FREAKING COW!!! Tell me you live in Wisconsin without telling me you live in Wisconsin."
Nelson spoke to FOX6 about the sighting, saying she was new to the farming thing and "seemed to have been the only one freaking out about a cow being in a Buick."
The cow-spotter really milked the situation, and has spoken to almost a dozen news outlets since the incident.
We just hope the calf was planning on ordering a McChicken, instead of something of the ground beef variety...
Video Credit: Jessica R Nelson
Image Credit: Sarah Gilbert via Flickr