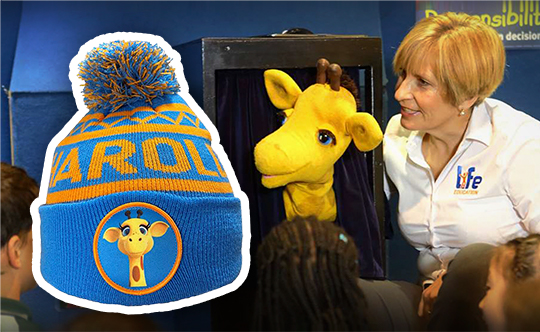 Yep, you can buy a Healthy Harold beanie and socks so your love for the giraffe puppet won't ever die.
Transport yourself back to sitting in a dark van in your school parking lot because there's nothing like some strong nostalgia feels to wipe those world-pandemic blues away, right?
Right now, you can snatch up a Limited Edition Healthy Harold Beanie for $29.50 or Limited Edition Healthy Harold Socks for $21.00, both "perfect for Healthy Harold fans of all ages."
"Stand out from the crowd with Healthy Harold's limited edition beanie," the description reads. "Made with love by Australia's most loveable giraffe for happy, healthy kids and grown-ups too."
If there's a giant giraffe-shaped hole in your childhood and you don't even know who Healthy Harold is, listen up.
It sounds creepy, but he was the lovable puppet that taught us about drugs and alcohol in the back of a spray-painted caravan on a random plot in the schoolyard. Healthy Harold has been an integral part of Australian education since 1979, empowering children through health education. He did have a one-year hiatus last year, but is thankfully back in action.
Students are being taught how to make safe and healthier choices in life, with the help of a familiar face - on top of a long neck. @LifeEdAus's Healthy Harold the Giraffe made a return to class today, after a year-long hiatus. https://t.co/dSgFbimyWe @frankrusso85 #7NEWS pic.twitter.com/v6DMXVMKQl

— 7NEWS Sunshine Coast (@7NewsSC) February 11, 2021
There is still some debate around whether the informative giraffe was referred to as Happy or Healthy Harold, and while we were certain it was the former it turns out Happy Harold was never his official name. Life Education explains, "In true Australian fashion, 'Happy' Healthy Harold could be considered a nickname. Rest assured, when you love what you do as much as Harold does, you're always be happy!".
Image Credit: Life Education