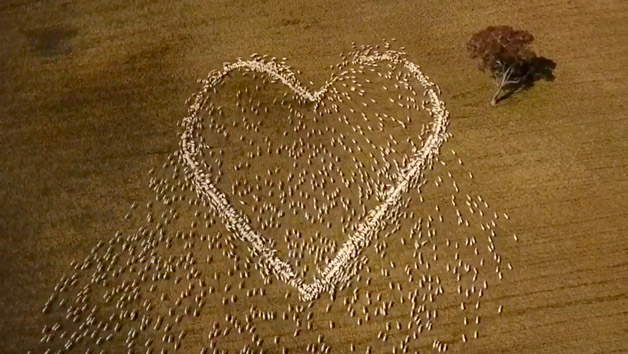 A sheep farmer who was unable to attend his aunt's funeral due to travel restrictions has created a heartwarming video using his sheep to create a farewell message as a tribute.
Benjamin Jackson, from Guyra, NSW, was unable to attend his aunt's funeral in Brisbane after she passed away after a two-year battle with cancer due to the current border lockdowns.
Jackson shared the video to his Instagram with the caption, "I made this for my Aunty Deb. We said goodbye yesterday. I hope you had a peep down and saw this from up there. Bridge over Troubled Water by Simon and Garfunkel was one of her favourite tunes."
The one-minute video is played with the soundtrack of Simon & Garfunkel's 'Bridge Over Troubled Water' which was one of his aunt's favourite songs. It begins with an aerial shot of a herd of sheep and as the drone flies over, the sheep gather into the formation of a love heart.
Jackson told The Guardian it took three or four attempts but once he saw the final product, he said there were waterworks. The video was sent to his family in Brisbane where it was played at his aunt's funeral.
He told The Guardian, "It was very lovely to have it as part of a sendoff. It was certainly something that she would have loved and absolutely cherished."
As well as a sheep farmer, Jackson is also a DJ and Producer and goes by the name Electric Postman. The sheep farmer has previously used his sheep to create "sheep art" which you can watch below.
---
Image credit: (@electricpostman / Instagram)