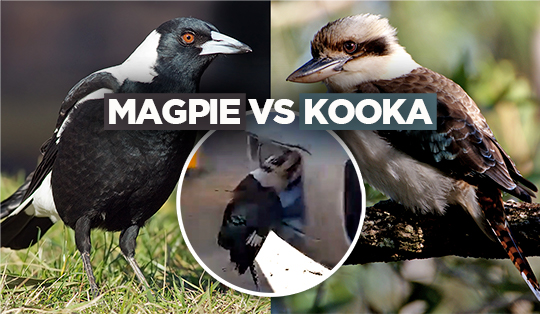 In the most Australian showdown yet, a Kookaburra being harrassed by a gang of magpies tried to flee but got its beak stuck in a car bumper bar.
A poor Kingfisher Kookaburra became caught in the bumper of a Subaru after allegedly being chased by magpies.
A couple of Bateman's Bay Police Officers swooped in to aid the kooka.
The Officer filming the rescue can be heard asking the owner of the vehicle, "How did that happen?".
"It was being chased by magpies", she responded, and confirmed that the bird flew into her car bumper, and subsequently got trapped by it's beak.
The second Police Officer - fondly known as 'Jonesy' - gloved up, and pulled the distressed kookaburra from it's prison before letting it go uninjured.
Obviously for the Kookaburra, it was no laughing matter.
Image Credit: JJ Harrison (https://www.jjharrison.com.au/), CC BY-SA 3.0, via Wikimedia Commons & Bernard Spragg. NZ / Flickr