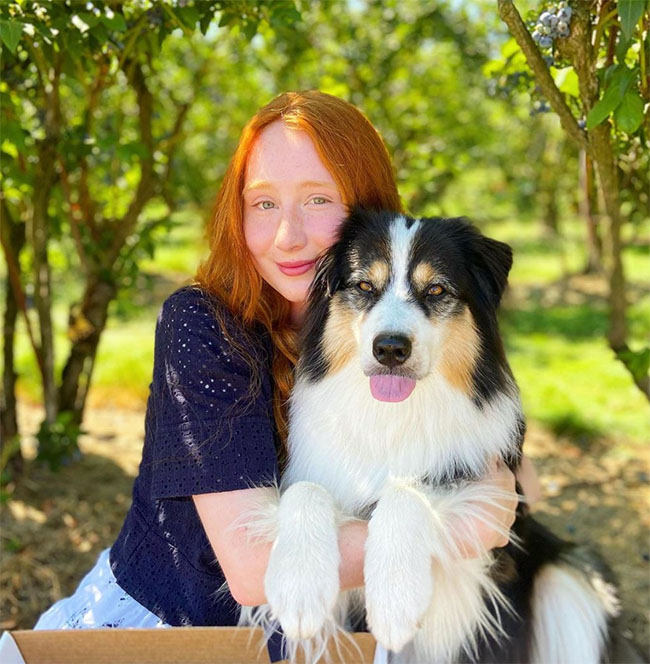 There's a new top dog on social media and her name is Secret!
Secret is an Australian Shepherd who has become a social media sensation thanks to her impressive range of talents including trust falls, yoga, acrobatics, playing drums and guitar, pushing her human on the swings and even doing the laundry.
Secret's owner Mary has uploaded videos to TikTok and Instagram showing her and Secret living their best life together and it's the sweetest thing. And their more than a million followers on Instagram and more than 3 million on TikTok agree.
A recent video of Secret painting a flower - and doing a pretty decent job at it - that has really sent her viral.
Check out this talent!
"Picasso reincarnated into a dog" commented one TikTok fan, while another said what many of us dog owners are thinking when we look at our own dogs: "And here's mine eating my neighbour's grass. Did we miss a seminar or something?"
Mary explained in the comments that it took her 6 years to teach Secret to paint. "It's one of the most rewarding things we've ever done together though."
Check out these other videos of Secret doing amazing things. We think it's only a matter of time before she's a social media influencer in her own right - she's even made her own TikTok video so she's already on her way!
Hide and Seek Challenge
Doing laundry
Doing yoga
Image: Instagram/my_aussie_gal