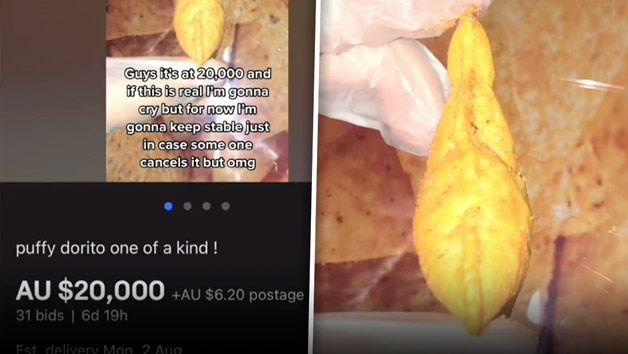 A Gold Coast teen has struck gold after her video of a puffy Doritos chip went viral on TikTok and has attracted bids of more than $100,000 on eBay.
Rylee Stuart from Coomera, Queensland posted a simple video of her find on TikTok with the text, "I found a puff Dorito! Is this valuable or should I just eat it? 😭 Tell me please."
In response to one comment saying she should sell it, she decided to post another video of her taking photos of the chip and posting it to eBay.
The comment, comparing her find to an Among Us shaped chicken nugget said:
"Sell it for 5000 dollars cos someone found an among us shapes nugget in a bus meal and are selling for 5000"
Inspired, Stuart then replied with:
"Ok, so at the start I looked at this comment as a joke, but then I actually thought you know what, why don't I do it? So, let's go."
After posting the puffy corn chip on eBay starting at $1, the 13-year-old then posted a follow-up video saying:
"Guys it's at 20,000 and if this is real I'm gonna cry but for now I'm gonna keep stable just in case the one cancels it but omg."
According to reports, the bidding topped at $AU135,804 but it has since been removed. Impressed with the story, Doritos Chief Marketing Officer, Vanita Pandey saw the attention the teen gained and offered her $20,000 USD for her 'boldness and entrepreneurial spirit.'
Pandey said, "We've been so impressed with Rylee's boldness and entrepreneurial spirit, so we wanted to make sure the Stuart family were rewarded for their creativity and love for Doritos."
It seems the virality of the puffed Doritos chip has inspired others, with a current copycat listing on eBay, also listed as 'Puffy Dorito one of a kind!' going for $18,000 AUD (at the time of writing). The listing has 20 bids and postage is a bargain in comparison at $15.75.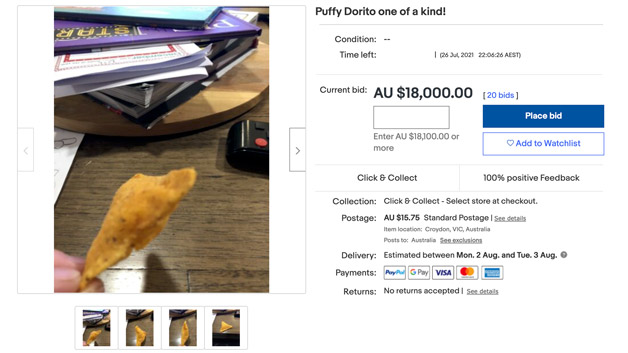 Source: https://www.ebay.com.au/itm/324725094563
Image Credit: (@m0mmymilkerza / TikTok)