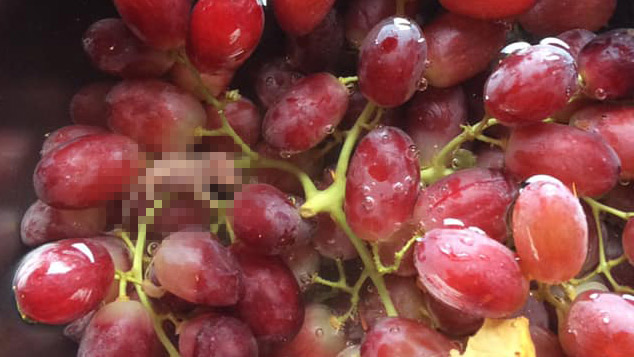 A Melbourne woman has made a disturbing discovery after purchasing a bunch of seedless red grapes from Woolworths.
A warning that the image may make you lose your appetite... And a reminder to always wash your fruits and vegetables!
The Melbourne woman took to the Woolworths Facebook page to post the shocking photo and review, where hundreds of Facebook users have expressed their shock at her find. The photo shows the bunch of red seedless grapes in a bowl of water, but on closer inspection, a fetus of what looks like a mouse can be seen.
Emma writes:
"Tuesday night and have well & truly lost my appetite. Emptied your seedless red grapes from the bag into a bowl and found a baby mouse/fetus ugly specimen amongst them. No further words needed ..."
A Woolworths representative then replied, asking for more details and explaining that she can take the product back for a full refund and replacement if she is unsatisfied.
"Hi Emma, thank you very much for bringing this to our attention. It is concerning to see what you've found in your seedless red grapes and we would like to look into it further. Can you please let us know:

- Expiry Date

- Store purchased from

- Batch Details (a combination of letters and numbers, sometimes includes a timestamp)

Please know that we have a Fresh or Free Guarantee so if you're ever unsatisfied you may take your receipt or packaging back to our service desk and our lovely team will cheerfully provide you with a full refund and replacement. We look forward to hearing from you soon, thanks"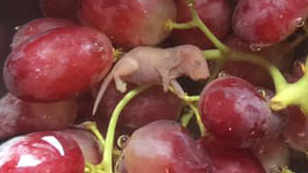 Emma then explains the grapes were purchased from the Bentleigh Woolworths store and that she took the bag (and fetus) back to the store already. She replied:
"Store purchased from was Woolworths Bentleigh.

Took the bag (and fetus) straight back there, so I don't have details of batch and expiry date, but staff working there yesterday at the front desk will be able to corroborate this."
The Woolworths representative then replied saying that her photo and information has been shared to their products team for awareness. They said:
"Thanks for getting back to us Emma. We appreciate you confirming the red seedless grapes were purchased at our Bentleigh store. You mention you've since taken the grapes and the object back to the store so you don't have the other details, which is fine. Please know that with the photos and information you've provided, we've been able to share this with our products team for their awareness. We appreciate you taking the time to bring this to our attention and we hope you have a nice day ahead."
Image Credit: (Emma Belotti via Woolworths Facebook)