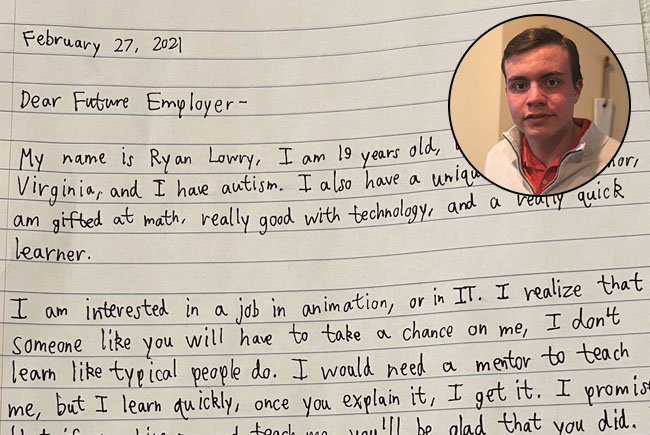 A 20 year old man with autism has gone viral after posting a heartfelt letter asking future employers to take a chance on him.
Ryan Lowry from Virginia is after a job in animation and posted a handwritten letter to his LinkedIn profile explaining that although he has autism, he also has "a unique sense of humour, am gifted at math, really good with technology, and a really quick learner".
"I realize that someone like you will have to take a chance on me," the letter read. "I don't learn like typical people do. I would need a mentor to teach me, but I learn quickly, once you explain it, I get it."
His heartfelt letter has had 7 million views and the response has been overwhelming positive, with thousands of comments of support and encouragement and a ton of organisations reaching out to help him. He's reportedly even already had a few Zoom interviews with animation studios and companies like Dell.
He even caught the attention of LinkedIn's CEO, who shared his support.
Such is the amazing response that Ryan's made a video thanking everyone for their support. In it, he explains that he's jut one person with autism and only about 17% of adults on the spectrum are employed. His hope is that more people with autism get seen for who they are and find opportunities to get jobs.
Image: Ryan Lowry/LinkedIn