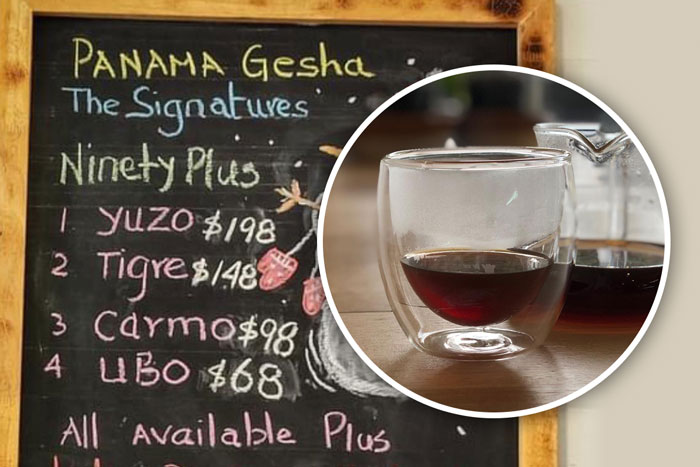 Is this Melbourne's most expensive cup of coffee?
A café in Surrey Hills, Melbourne is selling a cup of boutique coffee for an astonishing $198!
The expensive coffee on offer, is their Yuzo, Gesha Panama Coffee which will set customers back almost $200 for a single cup. If you don't want to fork out that much, the cheapest of the signature collection will cost you just $68.
In an interview with 7News, cafe owner, Ken Taing, explains it's the "most unique and beautiful coffee in the world".
Customers at the café lucky enough to try the coffee described it as 'smooth, aromatic and fruity', and said it tasted like a different type of drink.
In another interview with Studio 10, Tiang explains that only 5kg of the coffee was produced and 400g of it was shipped to him in Melbourne, and there's only one other place in Australia that has it, which is in Surrey Hills, Sydney. He explains COVID also factored into the pricing, making shipping expensive and the product even harder to get.
The price of the coffee comes from the rarity and difficulty of growing the coffee. The coffee, farmed by Ninety Plus in their Gesha Estates is grown in Silla de Pando, Volcan, in the Republic of Panama. The coffee is grown in 400-500 year old rich volcanic soil at 1,500-1700 metres above sea level.
The product description on the Ninety Plus website describes the coffee as:
"Born in 2020, this completely new processing formula utilizes the leaf of the coffee plant in fermentation to create a signature citric and juicy taste more reminiscent of sake and Sancerre wine than of any traditional coffee taste."
If you want to try the coffee, you can taste it at Gesha Café at 496 Whitehorse Rd, Surrey Hills VIC 3127. You can order it online where one kilogram of the beans unroasted will cost you $1,500.00 or you can sample a 10g roast for $45.00.
Image Credit: (Gesha Cafe / Facebook)