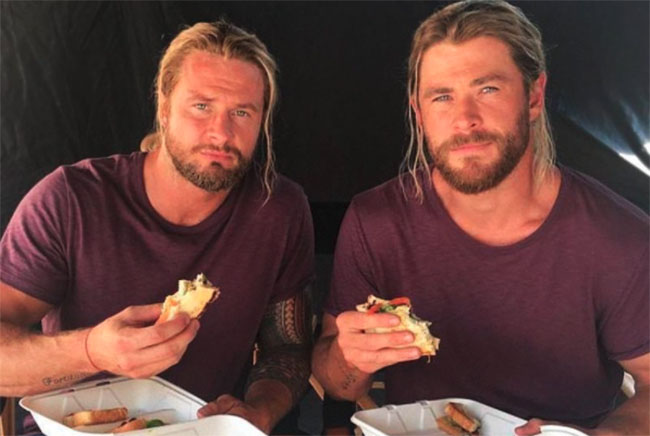 Spare a thought for Chris Hemsworth's body double, who's having to eat seven meals a day to keep up with the actor's muscle bulk as they film Thor: Love and Thunder.
Bobby Holland Hanton has been Hemsworth's double for more than a decade and talked about his gruelling fitness and nutrition regimens on radio show Fitzy & Wippa recently.
"Every two hours, we're eating," Hanton said. "It's become a chore. I don't enjoy eating at all every two hours."
I mean, who does, unless it's eating donuts every two hours. Like Hemsworth is doing here:
Haha Had you there for a minute. As if. But look at the size of those muscles! Imagine trying to match that?
It's no joke, as Hanton explains:
"Everyone's like, 'Wow, look at the size of him,' and I'm like, 'Yeah, it's brilliant, now I have to put on that size too. I text him and I'm like, 'Thanks very much, dude, it's going to be even harder this time.'"
Hanton follows the same training plan as Hemsworth to get the same physique and apparently even works out with him.
Grab yourself a donut and check out some of their epic training sessions.
And this fun one while the two were filming Extraction:
Main image: Instagram/bobbydazzler84