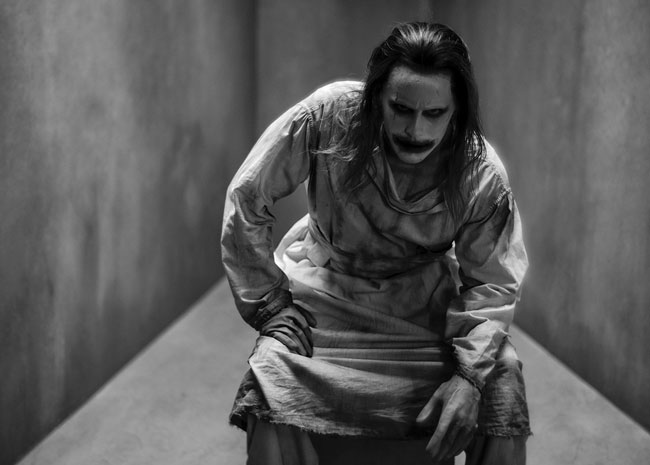 Zack Snyder has shared the first photos of Jared Leto's Joker in the upcoming Zack Snyder's Justice League.
The two black and white stills show us a glimpse of the reprised character's new look.
In 2016's Suicide Squad, Jared Leto's Joker was portrayed with a different look. Gone are the face tattoos and the short green hair, the reimagined Joker in 2021 can be seen with dark long hair and a plain white face with the iconic smeared lips. The images are black and white so there is still some to be left to the imagination.
In October 2020, it was revealed that Leto would reprise his role as Joker in Zack Snyder's Justice League.
Filmmaker Zack Snyder directed 2017's Justice League but had to step down and was replaced by Joss Whedon. During post-production of the film, Snyder left to deal with the death of his daughter, Autumn Snyder.
The theatrical release was a disappointment and fans petitioned for the release of the original cut which they nicknamed the Snyder Cut. In May 2020, Snyder revealed that the original cut would be released on HBO Max with around $70 million going towards finishing the production including new material such as the inclusion of Jared Leto's Joker.
The official Instagram page also revealed how Joker will appear in the Snyder Cut. Continue reading for spoilers on how the character will fit in with the plot.
SPOILER WARNING:
Joker appears in the new film during a sequence set on a ruined Earth after the alien tyrant Darkseid invades and decimates the planet. It's a dream sequence, a psychic vision, experienced by Ben Affleck's Bruce Wayne that reveals what will happen if the superheroes fail to stop the onslaught. Joker is sort of the Ghost of Christmas Yet To Come, supplying motivation through terror.
"The cool thing about the scene is that it's Joker talking directly to Batman about Batman," Snyder said. "It's Joker analyzing Batman about who he is and what he is. That's the thing I also felt like fans deserved from the DC Universe. That is to say, the Jared Leto Joker and the Ben Affleck Batman, they never really got together. It seemed uncool to me that we would make it all the way through this incarnation of Batman and Joker without seeing them come together."
Snyder already had a history devised in his head. "The scene explains why Bruce had the Joker card taped to his gun that you see in Batman v Superman," the director says of his 2016 film, which also hinted that that Joker murdered the Caped Crusader's sidekick by showing the absent Robin's armor, spray-painted with "Ha Ha, Joke's On You, Batman."
"I'd always wanted to explore the death of Robin," Snyder said. "And if there ever was going to be a next movie, which, of course, there probably won't be, I wanted to do a thing where in flashbacks we learn how Robin died, how Joker killed him and burned down Wayne Manor, and that whole thing that happened between he and Bruce." Via Variety.
This sounds really cool, and gives us a little insight into what we will see, but still without giving a lot away! Also Zack Snyder is saying this for a reason. It's to pull people in.
Zack Snyder's Justice League is scheduled to be released in the US on the 18th of March, 2021.
On the goal line. Trailer drop 2/14/21 9:14am PST #SnyderCut #ZackSnydersJusticeLeague pic.twitter.com/KiMpeYdvGh

— Zack Snyder (@ZackSnyder) February 7, 2021