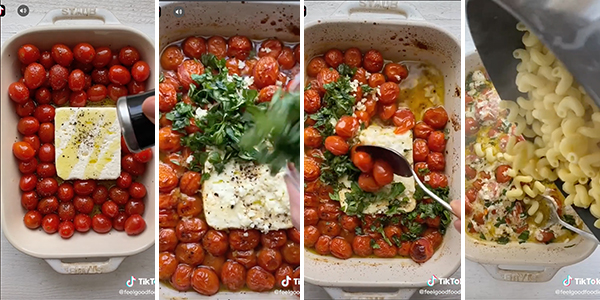 Baked Feta Pasta (@feelgoodfoodie TikTok)
So if you are like me and got lost down the TikTok rabbit hole sometime over the past week you would have no doubt seen the latest viral video doing the rounds.
Introducing the #fetapasta trend that is bringing you a delicious Baked Feta Pasta recipe in a 60-second video clip.
And seriously guys, if you don't have dinner already planned, don't worry because we have you sorted!
The Baked Feta Pasta recipe is quick and easy and best of all doesn't require a lot of ingredients and a lot of them you will be able to find in your pantry already (BONUS!).
All you will need is:
Cherry Tomatoes
Olive Oil
Block of Feta Cheese
Salt & Pepper
Garlic
Fresh Basil
Pasta
TikTok account @feelgoodfoodie shared the delicious recipe on January 29 and since then it has had nearly 6 million views and it's not hard to see why!
Watch the short video below that explains the simple recipe to follow.
And if you are looking for an even speedier version guess what there is also a 10-minute pan-fried version.
Looking for other quick and easy recipes? Be sure to check out the @feelgoodfoodie on TikTok her page is full of ridiculously delicious food.