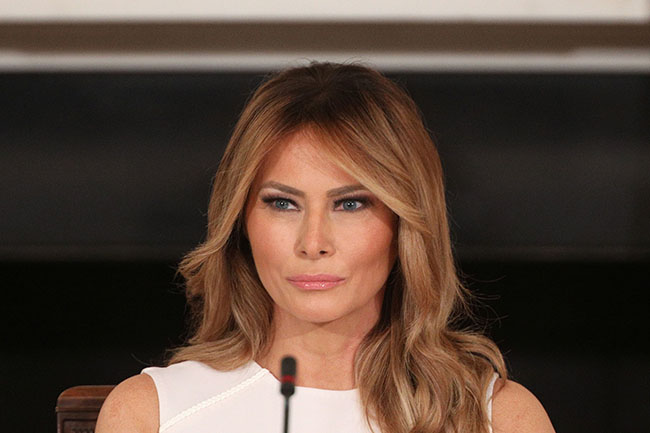 Melania Trump (REUTERS/Tom Brenner)
With new president Joe Biden now in the White House, Donald and Melania Tump's official presidential duties are over.
A hilarious video going viral seems to show Melania is finally done with all the smiles and duties of being FLOTUS (First Lady of the President of the United States).
Plus there's plenty of speculation that she never enjoyed being at her husband's side and is heading straight to the divorce attorney.
And what of "fake Melania"?
Here are some videos that may or may not prove the truth either way, but they sure are giving us some belly laughs.
Melania's "I'm done with this" vibe at the official end of Trump's presidency
She's no longer the First Lady and doesn't have to act like one anymore, and boy she totally owns that vibe!
Melania making a dash for freedom as soon as she gets off the plane 😁pic.twitter.com/JSlOTV5G7C

— dave ❄️ 🥕 🧻 (@davemacladd) January 20, 2021
Even her outfit didn't care anymore
Melania stole my carpet pic.twitter.com/5oqbJYYzEg

— Dave Matt (@davematt88) January 21, 2021
Can't hide the smile
One of these is not like the other....Melania is out! 😂 pic.twitter.com/brrhRaz2Pm

— Initium_Novum (@InitiumNovum6) January 20, 2021
It's not hard to imagine is it?
#Melania running to the divorce court office. pic.twitter.com/pBqxV6u0fm

— dulcedeleche (@gex2049) January 20, 2021
Remember when she didn't even want to hold her husband's hand?
I'm gonna miss watching Melania swat back Donald's hand in every public moment. #InaugurationDay pic.twitter.com/wydfTr9T4f

— Nirah Denson 🇺🇸 (@classydemolady) January 20, 2021
And those eyes she made at the delightfully dishy Canadian Prime Minister Justin Trudeau
#ThingsImGonnaMissAboutTrump How Donny & Melania showed such a loving affection for one another. That was so special. pic.twitter.com/qPynulURP9

— SoFloMan (@Iamtherealpiman) January 21, 2021
And then there's the conspiracy theory about a fake Melania
Honestly I will openly admit I'll never be convinced that the Fake Melania theory isn't the truth. That's clearly not her. https://t.co/7NXsFhH0Eg

— Edward Ongweso Jr (@bigblackjacobin) January 17, 2021
Either way, real or fake, Melania leaves some big heels to fill with her stylish outfits
MELANIA KILLED IT FOR FOUR YEARS!!!

Babe was a bright spot and a million fashion moments. pic.twitter.com/8JytFiVTys

— Ndi Kato (@YarKafanchan) January 20, 2021
Though let's ignore this massively tone deaf choice
She wore this while visiting a detention centre for migrant children. The First Lady admitted that the jacket had a message.
And what a fashion supermodel she was! I mean who can forget this amazing example of haute couture....https://t.co/epWn5lCWHt

You're a moron lady.

— buffalogammpa (@buffalogammpa) January 20, 2021