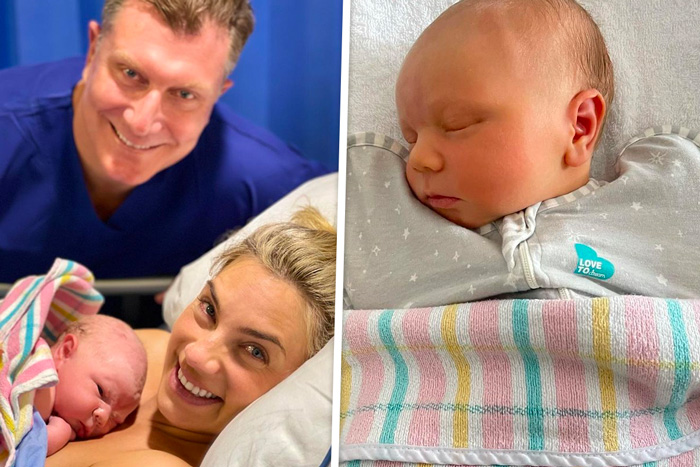 Red Wiggle, Simon Pryce, and his wife Lauren Hannaford have confirmed the safe arrival of their first child, announcing the exciting news on their Instagram on Sunday, January 10, 2021.
The exciting news was shared with two photos of the happy new family with their new son 'Asher William Pryce'.
In his announcement, Pryce says he is overcome with emotion and overwhelming feelings of love:
"I am so overcome with emotion and overwhelming feelings of love that it's impossible to put in to words everything I am feeling right now. ❤️
@lozhannaford and I are so fortunate, happy and blessed to have you in our lives. 🙏🏼
Welcome to the world ASHER WILLIAM PRYCE 💙
In an instant, I can't imagine my life without you being here. 🥰"
His wife, Hannaford explained the meaning of the name, saying Asher means 'Happy and Blessed'. She says:
Asher means: Happy & Blessed... And that is exactly what we are to have you, our gorgeous boy. 🙏🏼 @simon_wiggle 😍
Expressing her love and excitement of the arrival of baby Pryce, she posted:
We love you endlessly and beyond comprehension already!! We miss you so much when you are sleeping... but at the same time just want to sit and watch you for hours while you do it. ❤️😆 We can't wait to tackle life together as a family, you are our everything. We love you. 💋
The couple announced they were expecting their first baby back on Father's Day last year on September 6, 2020, with Pryce saying:
"Lauren and I are beyond excited and overjoyed to be expecting our first baby in early 2021. 👶🏼 I already feel like I'm bursting with love. 🥰"
The couple met in 2011 during a Wiggles Tour and got engaged four years later in 2015. Hannaford was a former gymnast and also a Wiggles dancer before playing the role of Dorothy the Dinosaur for some time. She then went onto create her own fitness empire with an online workout program called FHIT. Pryce and Hannaford got married back in 2017 on July 13 at Sydney's Luna Park.
Images: (@simon_wiggle / Instagram)