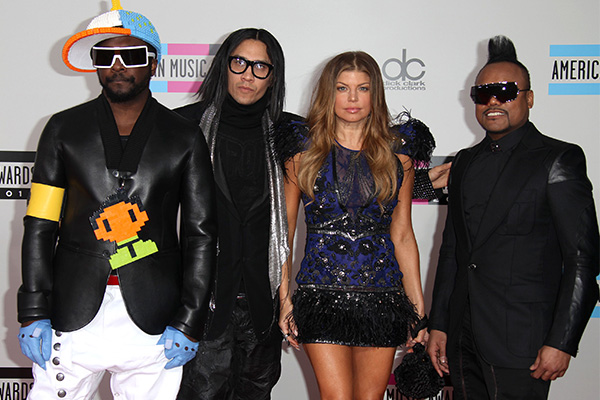 With an estimated 80 million records sold, The Black Eyed Peas are one of the best selling-groups of all time and they're back with their newly released album "Translation." But many of you might be wondering, what happened to original songstress Fergie?
In a recent interview with Billboard, former The Voice Australia coach will.i.am explains Fergie is no longer in the group as she's focusing on being a mum. He says that being a mum is, "a hard job and that's what she really wants to do and we're here for her." But there's no bad blood between the members, with a chance that Fergie could be reunited with her original team members. Will.i.am said, "She knows where we're at! We're at the studio.... she knows how to contact us for a retreat or a breakaway."
In 1995, high school friends will.i.am, apl.de.ap and Taboo were originally a hip hop trio and formed the Black Eyed Pods. It wasn't until 2002 with the addition of Stacy "Fergie" Ferguson that brought them mainstream success with the album "Elephunk". From that album came their first major hit "Where is the Love?" staying at number 1 on the charts for six weeks with the album reaching number 1, as well as their two following albums, "Monkey Business" and "The E.N.D". Since then, their hits "Shut Up", "Don't Phunk with My Heart'', "My Humps", "Boom Boom Pow", "I Gotta Feeling", "Meet Me Halfway" and "The Time (Dirty Bit)" have all hit the number one spot in Australia.
Fergie, aged 45 who has had her own successful commercial solo career with hits such as "London Bridge", "Glamorous", and "Big Girls Don't Cry" had her first son Axl in 2013. In 2018, Jessica Reynoso under the stage name J. Rey Soul became the group's newest member. J. Rey Soul was discovered by coach apl.de.ap during their time on The Voice of the Philippines (season 1) in 2013 with apl.de.ap selecting her to be a contestant on his team. She was eliminated in week four of the singing competition.
Listen to their latest track "Feel the Beat" from "Translation" below:
Photo: DFree / Shutterstock.com