The worldwide announcement of Assassins Creed Valhalla happened overnight and was made in partnership with Australian artist, BossLogic, who created an exclusive digital artwork revealed over an eight-hour Livestream via Twitch, Youtube and Facebook. Over the stream, the artwork slowly revealed the game setting, time period as well as the design of the main character to fans who tuned in to watch the announcement.
If you don't know who BossLogic (Kode) is I'm sure you would have seen some of his work. There was a stunning tribute to Kobe Bryant and his daughter, the amazing images of the Australian bushfires that were really close to home in Melbourne and some of his cult classic, pop culture comic book pieces where is has worked with both DC and Marvel but probably most famously on the Marvel's Avenger Endgame movie.
Check out the full interview in this video:
Here is the amazing finished artwork by Bosslogic and thanks to Ubisoft's Assassins's Creed Valhalla.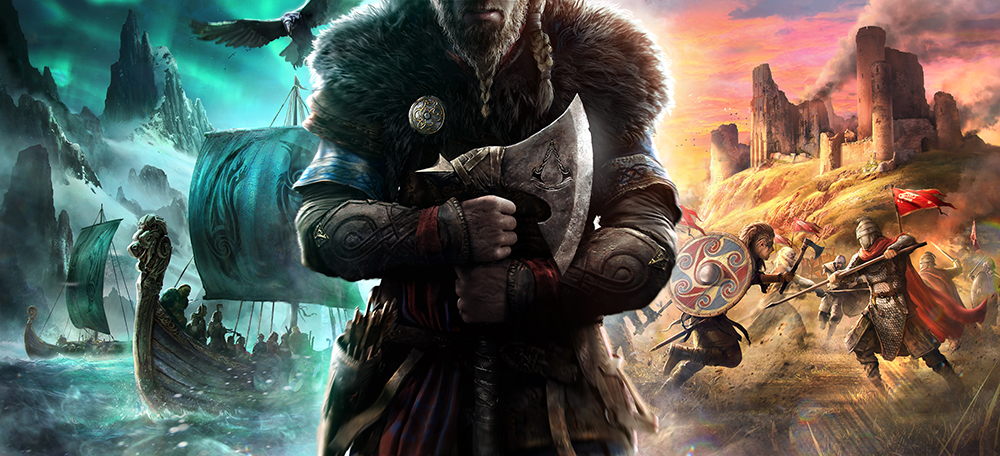 Now on to Assassin's Creed Valhalla the game.
Ubisoft have a massive challenge ahead, how do they make a game that is at least as good as the brilliant Assassin's Creed Odyessy. After all the franchise has sold over 140 Million copies worldwide and is famous for it's immersive and historically realistic settings. Well the first step is choosing the setting and having it in the dark ages of Vikings seems like a masterstroke.
The next instalment of the Assassin's Creed® franchise, Assassin's Creed® Valhalla, will be released worldwide this holiday season.
Developed by Ubisoft Montreal, the game invites players into the most realistic Viking experience to date. Players will explore a dynamic and beautiful open world set against the brutal backdrop of England's Dark Ages.
Players will live the saga of Eivor, a fierce Viking raider raised on tales of battle and glory. As Eivor, players will be able to choose to be male or female and must carve out a new future for their clan as they are driven from Norway. Experience an epic journey of the Dark Ages and relive the ruthless fighting styles of Viking warriors in the rich lands of England's broken kingdoms.
Watch the trailer here:
The movement of those characters in the trailer is next level, this is going to be epic!
"We can't wait for players to experience the incredible Viking journey ahead of them," said Ashraf Ismail, Creative Director of Assassin's Creed Valhalla. "Being in Eivor's boots as both a Viking raider and a clan leader will help players understand the conflicts Vikings endured as they tried to establish a new home while in the midst of a power struggle for control of England."
Available on the Xbox One family of devices including the Xbox One X, PlayStation®4, Google Stadia, Windows PC and UPLAY+, Ubisoft's subscription service*. The game will be released on the Xbox Series X and PlayStation® 5 upon their launch.
Players can pre-order the game at the Ubisoft Store to gain access to an additional mission at launch.
Listen to the Podcast version here
by DoccyDarko